Inspection of gear for plant health products application
Inspection of gear for plant health products application
---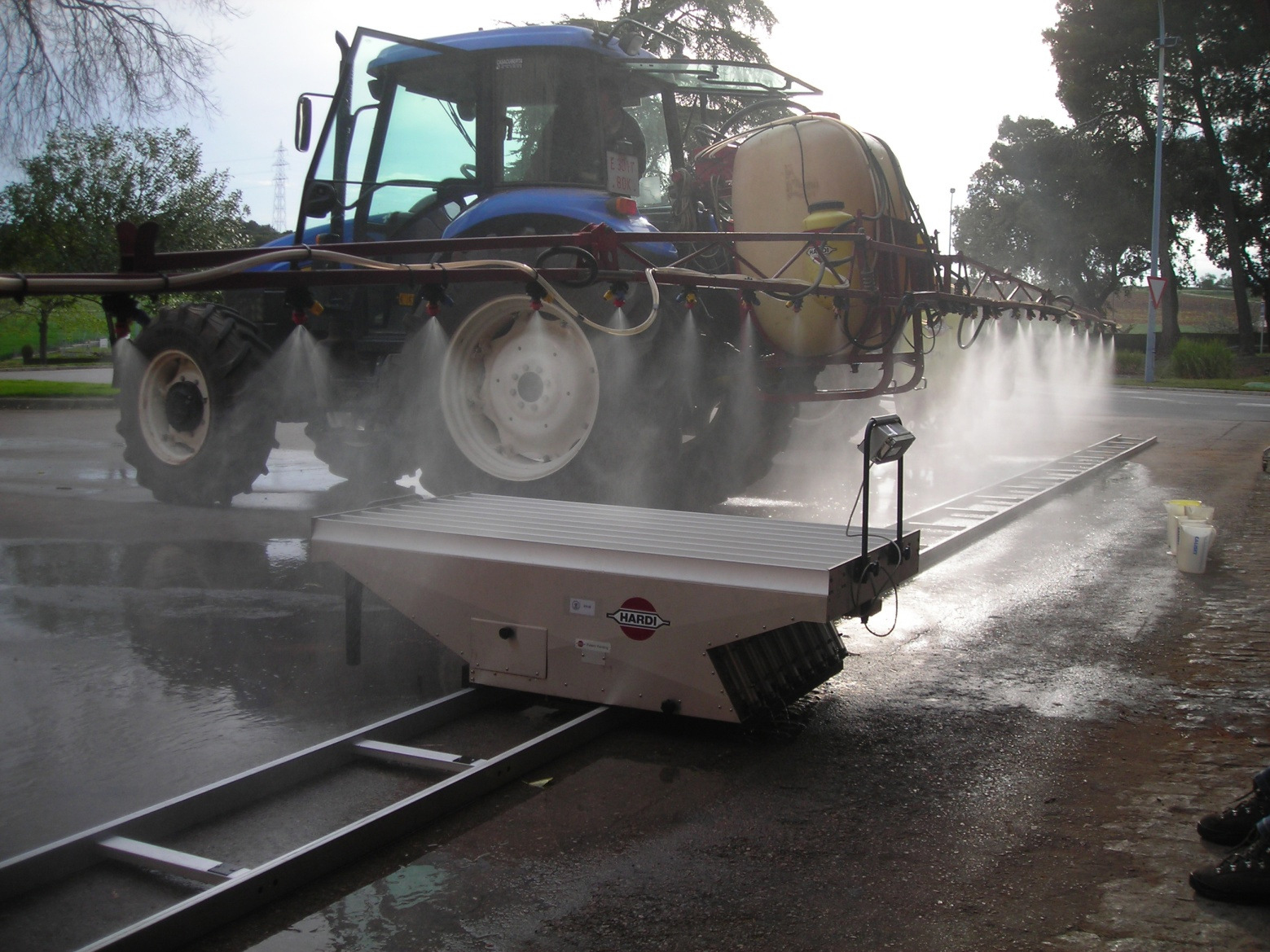 ---
Where are they performed? What kind of equipment must pass the inspection? What elements are inspected? How often should they be inspected? All about inspections:
All equipment for the application of plant health products should be inspected at least once before November 26th, 2016, according to Royal Decree 1702/2011, which sets no postponements. This means that, effective that date, equipment that have not been inspected shall not be used.
Inspection frequency
From that point on, frequency of inspections, as indicated by Spain's Ministry of Agriculture, Food and Environment, should be as follows:
New gear: In the first five years after purchase
Further inspections: Every five years, except for certain holders that will have triennial inspections
From 2020: Every three years
Inspection fulfillment
Farmers can freely chose the season to perform the inspection, while the holder may be present during the procedure. If the inspection results are adverse, for example, a serious flaw is found, the equipment cannot be used until defective items are repaired.
Inspections are carried out in accordance with the Inspections Manual issued by the Ministry of Agriculture, Food and Environment: http://www.magrama.gob.es/es/agricultura/publicaciones/Manual_de_inspección_de_equipos_de_aplicación_de_fitosanitario1_tcm7-191068.pdf
Elements to be inspected
The elements of the equipment for the application of health plant products to be inspected are:
Power transmission elements
Pump
Agitation
Spray liquid tank
Measuring and regulation and control systems
Pipes and hoses
Filtering
Spray bars, in equipment that include them
Nozzles
Distribution
Pneumatic system, in equipment that include them
Measurements
Pressure gauge
Pressure regulation
Nozzles flow
Types of equipment that must pass inspection
1.- Mobile equipment engaged in agricultural activities
Hydraulic sprayers (bars or pistols)
Hydropneumatic sprayers (atomizers)
Pneumatic (nebulizers) and centrifugal sprayers
Shakers
2.- Stationary and fixed equpment inp remises and greenhouses 3.- Application equpment for aerial treatment 4.- Mobile teams dedicted to other non-agricultural use
This kind of equipment must be pre-registered in the Official Register of Agricultural Machinery (ROMA)
os equipos deben estar previamente inscritos en el Registro Oficial de Maquinaria Agrícola (ROMA)
Where inspections are carried out
Technical inspection stations for plant health products application equipment (ITEAF) are authorized, entitled and controlled by each autonomous community government in Spain. ITEAF must have mobile units and inspections may be carried out on these or in fixed station facilities.
ITEAF authorized by Region: : http://www.magrama.gob.es/es/agricultura/temas/medios-de-produccion/iteafautorizadas20abril2016versionparapublicarenlaweb28-04-2016_tcm7-419656.pdf
Regulation context
The proper application of pesticides requires a homogeneous distribution of the product, and that it complies with the approved and recommended doses, in order to avoid adverse harmful effects on human health and the environment. Poor settings in application equipment or machines can lead to irregular distributions and defects, failures or misalignments can cause product leaks or spills in inappropriate places.
The December 20th, 43/2002 Law on plant health, seeks to guarantee that plant health means gather all the necessary conditions and lays down the basic provisions on the requirements these means must comply with, its rational use attending, regarding to application equipment, both the use conditions of the pesticide applied in each case and the maintenance and tuning requirements of such equipment, official controls to verify compliance with those provisions and support tools necessary for conducting corresponding inspections.
Meanwhile, the October 21st Directive 2009/128/EC of the European Parliament and Council that establishes the Sustainable Use of Pesticides lays down certain mandatory requirements in this area. Article 8 and Annex II establish that application equipment for plant health products must work properly, ensuring product distribution accuracy and dosing, as well as the absence of leaks in filling, emptying and maintenance operations.
In order to implement and develop the regulations mentioned above, Spain's Ministry of Agriculture, Food and Environment published November 18th Royal Decree 1702/2011 on mandatory inspections of equipment for the application of plant health products. Thus are established official controls for the verification of compliance with the requirements for maintenance and tuning of this equipment, the basic regulation for inspection, and the necessary rules of coordination with the autonomous communities' governments, with an authorization regime for stations that perform the technical inspections.
Source: Spain's Ministry of Agriculture, Food and Environment
(http://www.magrama.gob.es/es/agricultura/temas/medios-de-produccion/maquinaria-agricola/inspecciones-equipos-aplicacion-productos-fitosanitarios/#para3)
(http://www.magrama.gob.es/es/agricultura/temas/medios-de-produccion/DIPTICO_ITEAF_tcm7-368267.pdf)
---
---