Whitefly: Tecnova trial unveils Nakar's potential
Whitefly: Tecnova trial unveils Nakar's potential
---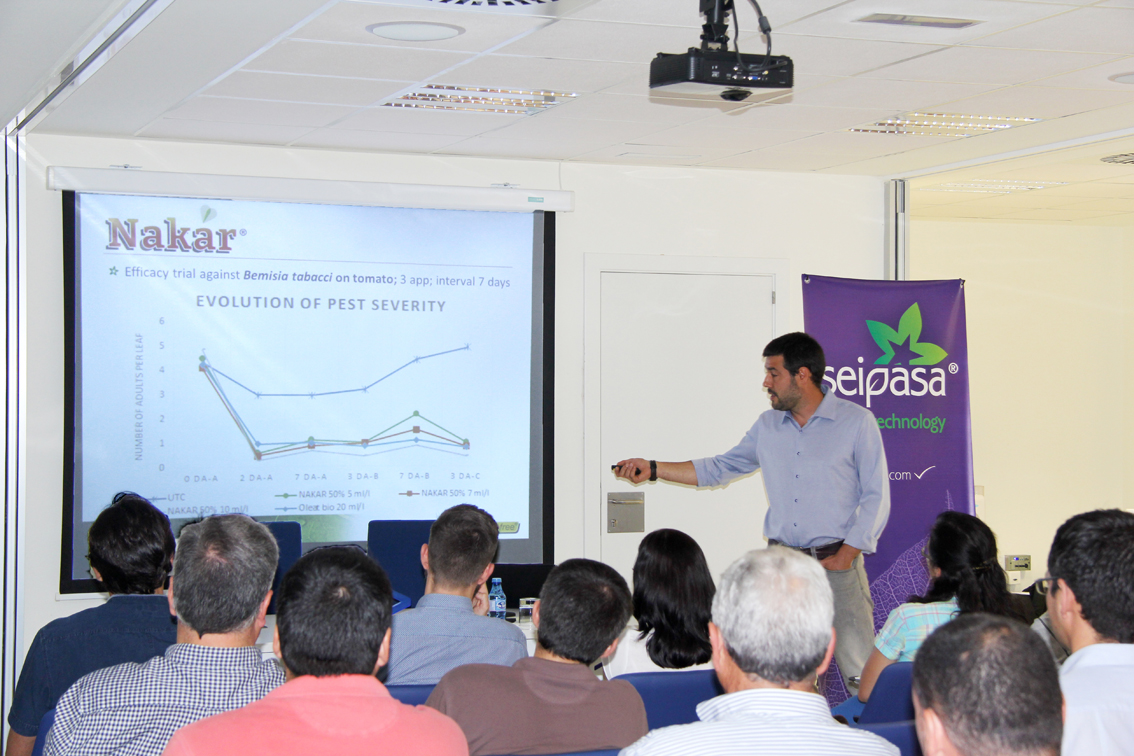 ---
The new Seipasa natural formulation to control whitefly equals the chemical reference's effectiveness, plus it does not leave any residue and it is suitable for integrated and organic production
María del Mar Téllez, IFAPA researcher, at the conference on whitefly.
At Tecnova's headquarter, in Almería's Technology Park, its researchers presented the results of a test conducted on integrated control of whitefly in greenhouse tomatoes developed in an experimental farm that belongs to the research entity. Next to María del Mar Téllez, researcher at the Institute of Research and Formation on Agriculture and Fisheries of the Government of Andalusia (IFAPA), technicians and producers introduced the most effective tools to deal with this insect, Bemisia tabaci, through preventive measures as well as plant health and biological control.
As explained by Tecnova's R&D Director, Carolina Martínez, and integrated production technician Carolina Sánchez, this research has proven the high effectiveness of treatments that employ SEIPASA's biopesticides on whitefly immature and adult populations.
NAKAR, Zero Residues and no safety term
NAKAR (registry # ES-00123) is a bioinsecticide taken as a reference, which show its great capacity to eradicate whitefly populations while shutting of its biological reproduction.
During the trial developed from March to June, we evaluated the insecticidal effectiveness in three experimental treatments compared to an untreated control: control (T0), NAKAR 10 ml/l (T1), NAKAR 6 ml/l + Pirecris 2 ml/l (T2) and Acetamiprid 0.5 g/l (T3).
The Tecnova researchers highlighted the successful process of whitefly pest control with natural products such as Nakar and Pirecris, as well as chemical reference Acetamiprid. The findings of the trial showed that "in all three treatments the insecticidal effect was similar and statistically indistinguishable from each other", which confirms the effectiveness of Seipasa's natural formulations equals the chemical reference, with added value too – it doesn't leave behind residues in the crop and that makes it suitable for integrated and organic production.
Thus, the insecticide potential of the newly formulated NAKAR that was stated in this trial adds up to the advantage of being a zero residue product, which does not require safety periods. Similarly, its synergy with Pirecris, another botanical-based bioinsecticide, has proven a tight control of Bemisia tabaci.
As the conclusions stated in, both solutions cause direct and immediate effects on pests: "They have produced desiccation in immature stages and a loss of cohesiveness in the adult stage. In both cases, direct contact of these products has led to the death of insects".
In this line, Seipasa's technical director, Xavier Nácher, emphasized the accomplished goal of this new solution hitting the market: "NAKAR achieves the eradication of the pest penetrating the insect's cell membranes and causing its dehydration, by disruption of the waxy layer, and death".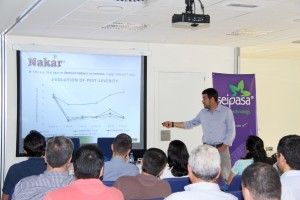 Xavier Nácher, Seipasa's Technical Department Director.
As Nácher stated, NAKAR's action causes cytolysis of the insect cells, in other words, the breakdown or decomposition of the membrane, so it loses cell material and vital processes stop. Furthermore, it blocks the insect's spiracles, which leads to its suffocation.
The NAKAR's natural base makes it a privileged tool for Integrated Pest Management (IPM) strategies, as well as resistance management programs, to which it shows optimum results.
---
NAKAR use strategies
As Nácher explained, NAKAR can be used as a solution against whitefly in crops:
1) Intended for zero residues production, it must be applied as soon as the pest appears in order to shorten its life cycle and consequently its spread. Similarly, it can be used in the crop's final stage to guarantee residues free harvests.
2) In order to set Integrated Pest Management (IPM) strategies and resistance management, NAKAR can be used with other insecticides that do have a security term in the middle period of the cycle.
3) Similarly, its effective insecticidal action, substantiated by recent trials, make it an alternative for the most demanding organic production.
---
---